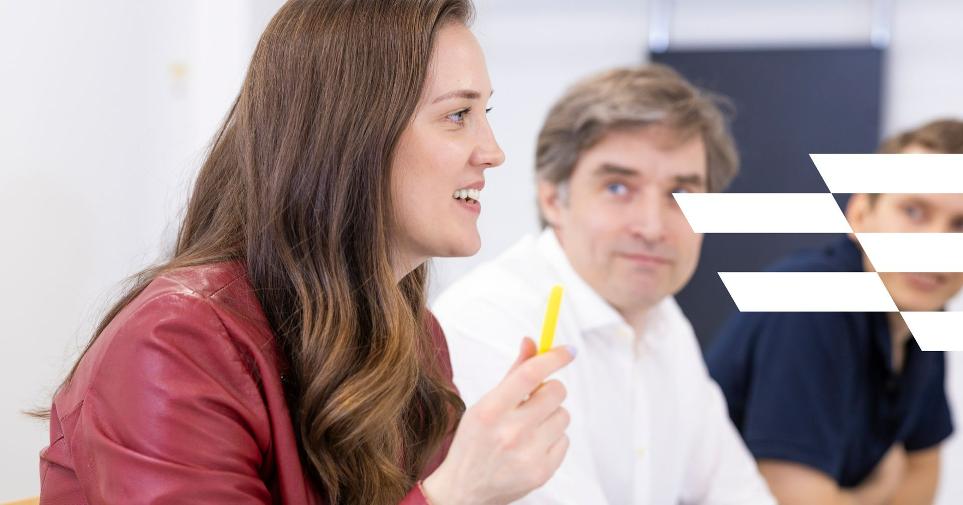 SprintIT, headquartered in Helsinki, is a rapidly growing consulting, service, and software company in the modern ERP market. Our solutions and services are based on the Odoo business apps and our own custom-made apps. With 50 specialised consultants and developers spread across Finland and India, we are available for more than 100+ customers in Finland and Nordic countries every day.
This year we are growing the team by 20 new talents due to strong demand and we truly believe this growth will not happen unless we have the right people onboard and the ways of leadership in place. We offer an interesting opportunity to be involved in building the business systems of the future, based on open Odoo technology with great people and hopefully you are there with us. 
Our project teams are in the very core of our business providing the Odoo solution to our customers. Our project delivery teams, combined from 3-6 technical project and Odoo professionals, are the link in guaranteeing our customers' success and growth. Now we are looking for a Team Lead to enable 4-5 project teams' success and growth. 
As a Team Lead, you would have roughly 20 super talents to lead, guide and support. In addition to this being an administrative role, this will also be a role which you can definitely develop further based on your experience and insights after joining. You will work closely with Joni, Head of Project Delivery in an organization that laughs at hierarchy. Please note that Finnish skills are required in this position.
Your key tasks and targets would be
Find and set a baseline for this new role of Team Lead at SprintIT with support

Support your team to reach targeted invoicing rate

Maintain or increase your team satisfaction level from ⅘  

Maintain or increase customer satisfaction level from ⅘ 

Build your teams by recruiting and talent management efforts 

Coach your team members in 1:1s and team meetings 

Join with other team leads to build and develop the new roles and the organisation with rest of the stakeholders 

Implement and define the best team lead practices
Great assets for the role


Willingness for continuous learning and self-development; your academic background is a great asset but we appreciate your current potential more;

Hands-on experience of managing project teams, related to ERP-implementation or similar IT-migration projects;

Hands-on experience and willingness to lead people and to coach them further;

Some understanding of ERP business processes;


Excellent verbal and written communication skills in Finnish and English; be able to communicate effectively at all levels of the organization;

Ability to have discussions with internal and external stakeholders; coordinate and cooperate with different people with different needs, Sprinters are very customer-focused but you are expected to set expectation management to all by being able to say no;

Ability to handle changing priorities, deal with ambiguity and use good judgement in stressful situations; 

Having fun while doing serious business with an international team 
What do we offer?
Our customer base is wide and operates in various industries, so you can get involved in interesting and varied projects based on your experience and skills. The role is new, so you will love the possibility to develop the role and the organization even further. Our Sprinter culture is based on continuous improvement and development. 
Also included in the Sprinter package:
The friendliest Sprinter community of like-minded and international IT people

A manager who appreciates you as a person

Open knowledge-sharing environment – exclusive access to a rich pool of colleagues willing to share their endless insights into the broadest variety of modern technologies.

Extended medical / health care insurance program

Flexible work time and location, HQ in Pitäjänmäki, Helsinki

Choose your preferred OS and tools from G Suite, Odoo and Slack offering

Sick Child Care support

Casual events, Tuesday & Thursday coffees, team lunches, annual company events etc.

Lunch vouchers, coffee, drinks & snacks provided at the office
In case you recognize that this could be the kind opportunity you'd enjoy, just leave your application right now because we can't wait to hear from you – we'll read all the applications and will get back to you as soon as possible! We will try to finish the process by signing the most prominent candidates by 21.8.2022.
If you come up with any questions or want to have a quick chat before making any further decisions, just reach out to our People Lead Janina by email janina.kurki@sprintit.fi.
Hope to hear from you and see you soon!
We are Sprinters! Want to see what we are like in daily life? Get to know our fun side on Instagram: @sprintitpeople!