Meet Vaishnani became part of the company in October 2021, with over 6 years of expertise in Odoo Software development. Fuelled by passion for his craft, he is eager to spread the word about both Odoo and SprintIT. 

Don't let his dedication fool you - he's usually the one making everyone laugh, and he doesn't even believe in bad days. 

Let's find out more - we also added a surprise video/podcast to the blog. As Meet puts it, "it will require more than words to express our emotions to the people".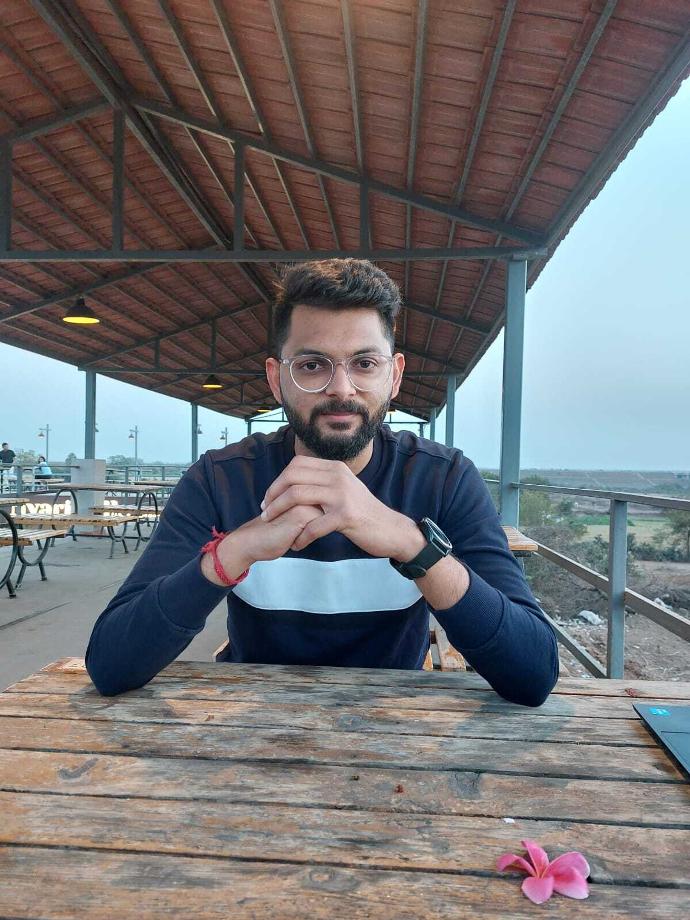 Hi, Meet! Please introduce yourself and tell us what you do here at SprintIT! 

Hello, my name is Meet Vaishnani. 

I am a highly motivated and experienced professional with a background in Odoo Development. I have 6+ years of experience in Odoo Software development. I am passionate about making others life easy with my work. 

As a software engineer, I design, develop, and maintain computer software and applications. I use programming languages and software development tools to create efficient and effective solutions to various problems. 

I work collaboratively with other software developers, project managers, and stakeholders to ensure that the software meets the requirements and specifications. 

Additionally, I constantly learn and stay up-to-date with the latest software development trends and technologies to improve my skills and the software I create.


Where are you from?

I am from India - country with diverse cultures, religions, and languages, rich history, traditions, and cuisine.


When did you start at SprintIT?

I became a part of the company in October 2021, during a time when the world was experiencing significant changes and everyone was adapting to the "new normal".

How did you find out about SprintIT and Odoo, what made you apply?

I came across open position while conducting research on organizations in Odoo. As I delved deeper into SprintIT's website, social media channels, and reviews from former employees, I was impressed by the positive reputation, culture, and values of organization, which align with my professional goals and values. These factors motivated me to apply for the position and pursue an opportunity to be a part of SprintIT.

What is it like to work with Finnish people?

Pros: Finnish people are very punctual and efficient in the workplace. They take their work seriously and expect the same level of dedication from their colleagues.

Also Finnish culture values honesty and directness, so all things straightforward in terms of communication.

Cons: The Finnish language is difficult and nobody in India speaks it, which can make communication challenging sometimes. However, most of the people are proficient in English and can communicate fluently with it.

Learning to navigate Finnish work culture and building relationships with Finnish colleagues took some time for me, but it also provided me an opportunity to learn about a unique culture and work style.The flat hierarchy and collaborative work culture lead to a positive work environment where everyone's ideas and contributions are valued.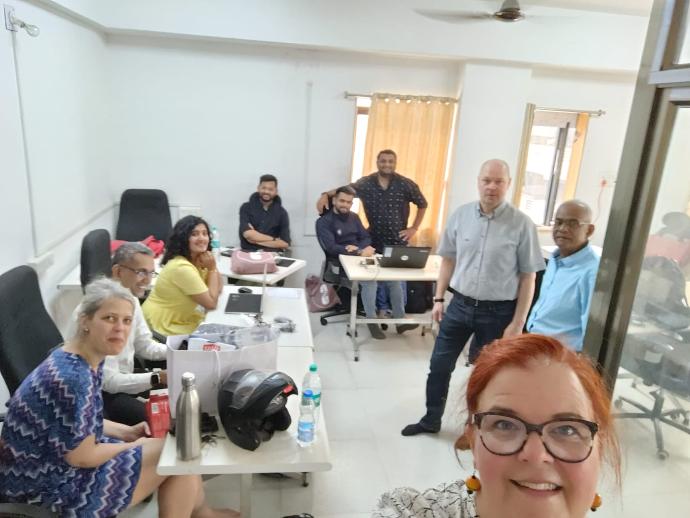 Have you been to Finland or met your Finnish colleagues face-to-face?

I have not yet been to Finland, but I have met Petri H., Janina and Petra during their recent visit to India. We had a really good time.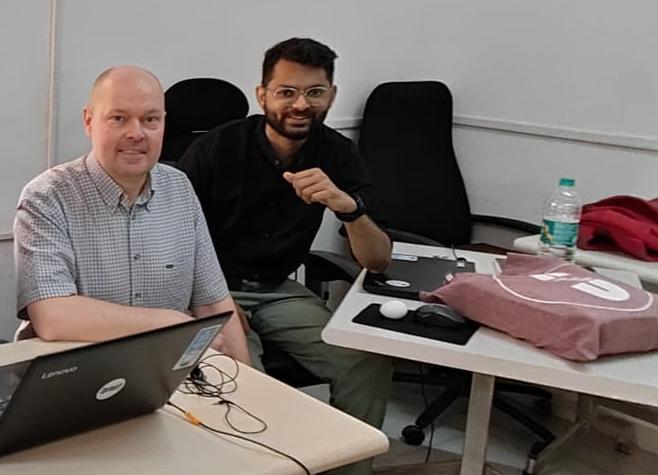 When I first had the opportunity to meet Petri Heino, one of the co-founders of our company, I was immediately struck by his down-to-earth nature.  He made a genuine effort to connect with everyone, which really impressed me. 

He is really good listener. He always gives his full attention to the conversation, carefully observing and considering every detail shared.

It was a truly inspiring experience to meet someone who played a key role in establishing our company and still maintained such a humble and receptive attitude. I felt valued and respected, and it reaffirmed my belief in the vision and culture that he and the other co-founders had built for the organization. 

Meeting Petri Heino was not only a moment of professional growth but also a personal one, as I learned the importance of being a good listener and approachable leader.

Meeting my former Project Manager and Coach, Petra Eloranta, was an inspiring and enlightening experience, as well. When we gathered in the India office, it became evident why Petra is a seasoned professional with over 25+ years of experience. She was warm and approachable, and genuinely attentive, just like Petri. Her ability to understand and address individual challenges demonstrated her exceptional leadership skills and deep understanding of team dynamics.

Last but not least, meeting Janina Kurki was an absolute delight. As our company's People Lead, she plays a pivotal role in shaping our work culture and employee experiences. Her friendly and jolly nature lit up the room and her positivity was infectious. Janina's ability to create an environment where everyone feels comfortable discussing things openly is truly commendable. After the visit we all felt reassured that our well-being and opinions are valued under her guidance.


What is the office and office-life like in Vadodara?

Vadodara office is cozy and tight. Efficient and creative space. Close proximity builds strong relationships.

Mostly, it is quiet and everyone is focused on their work until someone's food order arrives.


What is your basic day like?

My approach to working is straightforward - I am generally aware of what tasks I need to work on, along with their priority and deadline.

Typically, my day begins with checking my emails and messages. After spending around few minutes for planning my day, I dive right into my tasks.

I do not usually communicate with my Indian colleagues during a typical day since I am not working with them directly. However, we do receive updates about each others' progress and activities during our weekly meetings.


You have said earlier that you would like to promote SprintIT and Odoo, and even do content like podcasts around it. Are you still interested?

Yes, let's do it now!
Ok, let's do it!

Welcome to the podcast with Meet! How would you introduce it?

In our fresh 15 minute podcast (that is clearly a video) we go through topics like the Indian office in Vadodara, remote work, working with the Finns, the need for Indian content, Odoo, recruiting new developers, etc.

If people like this idea of a podcast, I would be eager to do more of them, and maybe in the future we could invest more in the script, quality, and equipment. I already have many ideas in my mind!


Thank you, Meet! We salute you for being our fore-runner!
Going back to the blog, what are your best memories in SprintIT - work and free-time related?

My fondest work-related memories are from my team, the "Finance Team" that I work in. We would hold meetings where we discuss our project work and the challenges we face.

One of my most cherished memories of free-time at SprintIT is when we went on a team outing to "Udaipur", a captivating city of lakes, palaces, and rich heritage. It was a great opportunity to get to know my colleagues better outside of work.

Describe an occasion where a colleague helped you out.

A few weeks ago, while diligently focused on my work, I encountered challenges in understanding task priorities. My coach and manager, Konsta, stepped in and provided valuable guidance, significantly improving the accuracy of my work.

Which one of your colleagues made you laugh recently?

While I'm usually the one responsible for making others laugh, during our recent coffee meeting, the whole team shared some genuinely funny jokes, and we had a great time laughing together.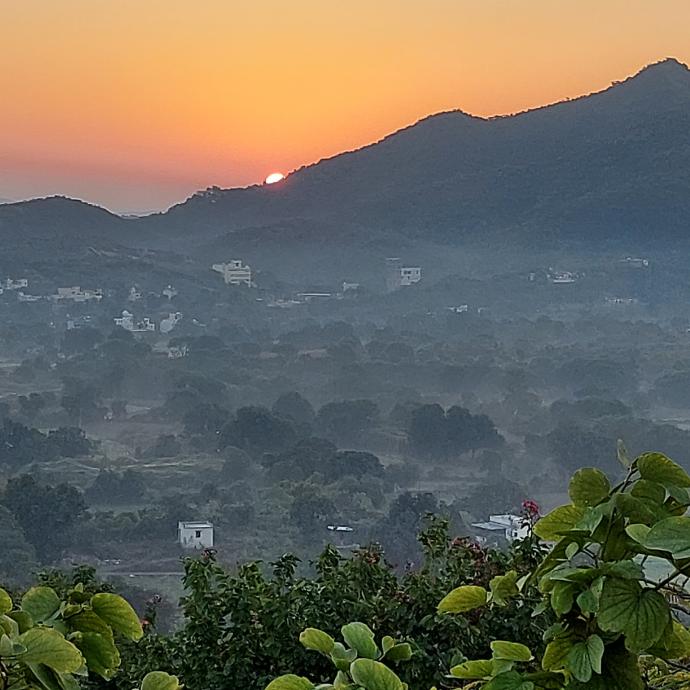 What makes you happy at work right now?

Just being part of SprintIT.


What is your bad day like?

In my perspective, there are no "bad days" at work, but rather varying levels of energy — some days are high-energy, while others may be low-energy. 

However, occasionally, I do experience moments of low energy, when I don't receive timely responses for the things I need. And such instances of delayed responses can have a cascading effect on other tasks and their respective timelines.


Is there a nerdy stereotype that fits you?

Michael Scott's character from "The office" fits me at some level.


How would a six year old describe your daily work?

I am a magician, I make computer do stuff with my magic powers.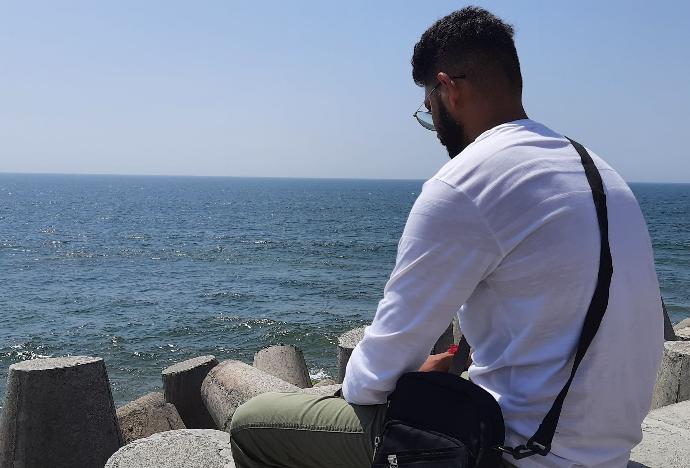 Finish these sentences:

When you see me at the office, I'm probably… busy typing away on my computer, collaborating with colleagues, or attending meetings to work on exciting tasks and solve challenges together.

I start my mornings… with planning my day.

My work life motto is… to face challenges positively, always do my best, and work together with others to achieve success.

Best thing about Odoo is… its all-in-one platform that offers a wide range of business applications.

You will never hear me saying… "I don't want to help."

So let's end this in the "Michael Scott way" (with interviewer's blessing) - how would you rate SprintIT? 5/5?

Sometimes the work I do blows my mind by doing stuff that I didn't expect. During my work we usually engage more than 2 people to try some new ideas, sometimes I can do my work for hours without taking a break. Usually I feel relaxed once I am done with my work. SprintIT never wakes me up in middle of the night to do my work. I can always say "No!" to the things I am not comfortable with. I can be honest with my colleagues and we can discuss things mutually, if something is not happening right. I could never think of anyone else than SprintIT.

So hell ya this is better than sex, 6/5.
Thank you so much, Meet!

Want to know more about Sprinters? Click the links below!

OPEN YOUR SOURCE STORIES

SPRINTER BLOG